Because it's really that place which is unreachable, or mysterious, at which the poem becomes ours, finally…
A personal note. For all of what seemed, between 2001 and 2007, the ugliest of hate feuds, I turned to four poets—not for solace, but for connection. I was in Jerusalem then, a city that too often gives as much dark as it gives light. The poets I read were Yusef Komunyakaa, Carl Phillips, Ruth Stone and Mark Strand. Each helped me put words to the alienation I felt, and to the strangeness that people on both sides of the fighting eventually came to call "the situation." But Jerusalem, in any light, is a liminal place; and it was Strand's poems that, for me, best fit the in-betweenness I felt while there.
We have done what we wanted.
We have discarded dreams, preferring the heavy industry
of each other, and we have welcomed grief
and called ruin the impossible habit to break.
And now we are here.
These lines from "Coming to This" reached beyond the poem's overt reference and interior voice and, at that time and in that place, became something of an anthem for me. A narrow and utilitarian read, no question. Strand's poems, after all, have nothing to do with moment or place. They are, instead, entirely about what it means to be.
We asked poets Ellen Goldsmith, Kimiko Hahn, Stefania Heim, Eve Grubin, Lynn Melnick, Bianca Stone, Sandy Weisman and Andrew Zawacki to take us deeper through their own reading of Strand's poems. We're grateful to each. — R. B.
Richard Benari
"I like to be mystified. Because it's really that place which is unreachable, or mysterious, at which the poem becomes ours, finally, becomes the possession of the reader." — Mark Strand
(The Paris Review, "The Art of Poetry No. 77," Fall 1998)

from "The Story of Our Lives"

We keep turning the pages,
hoping for something,
something like mercy or change,
a black line that would bind us
or keep us apart.

When I was sixteen – watching myself from outside of myself, reading for dear life – I copied all seven sections of "The Story of Our Lives" in turquoise marker and taped them next to my bed. Strand's lines are clear and calm, they have a mythical, faraway wisdom – but still, somehow, they are furtively urgent as they track longing, the tragic and beautiful unfurling (unraveling?) of selves.
— Stefania Heim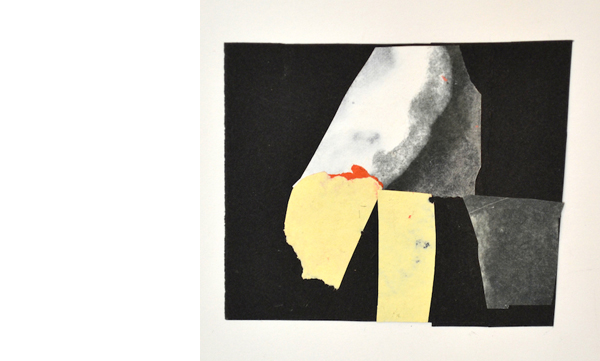 Mark Strand, Madrid, 2012. 2012, Paper collage, 4″ x 4 3/4."
Courtesy the artist and Lori Bookstein Fine Art, New York.

from "The Idea"

And there appeared, with its windows glowing, small,
In the distance, in the frozen reaches, a cabin;
And we stood before it, amazed at its being there,
And would have gone forward and opened the door,
And stepped into the glow and warmed ourselves there,
But that it was ours by not being ours,
And should remain empty. That was the idea.

Beyond the restraint and subzero beauty of its language and minimal landscapes, what first drew me to Mark's work is its "wish to possess" through erasure, giving up, going away. Enacting a via negativa "ghostly and white," his poetry often rehearses how "my" death is at once my ownmost and everyone else's but mine. I love how this lyric enfolds that fact in a friendship. An elegy inscribed in the arc of every shared, continuous life: And, and, and, and, and —
— Andrew Zawacki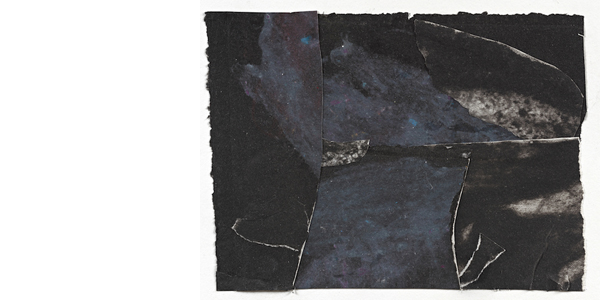 Mark Strand, Madrid, 2013. 2013, Paper collage, 6″ x 8 1/4."
Courtesy the artist and Lori Bookstein Fine Art, New York.

from "Lines for Winter"

tell yourself
in that final flowing of cold through your limbs
that you love what you are.

A classmate shared this with me during my first winter in New York City (coming from California, it was really my first winter ever). Shocking and exhilarating in both their simplicity and scope, these lines are limitless. — Lynn Melnick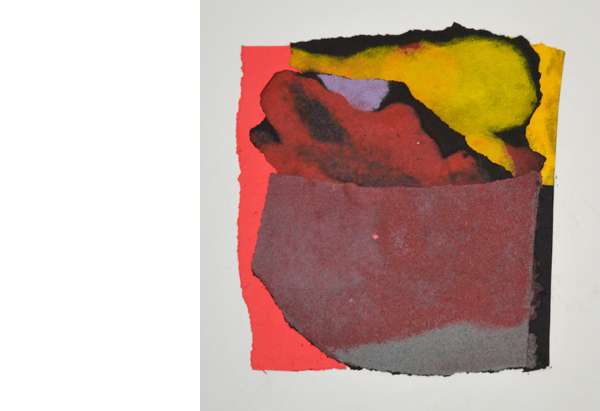 Mark Strand, Madrid, 2013. 2013, Paper collage, 5″ x 4 1/2."
Courtesy the artist and Lori Bookstein Fine Art, New York.

from "Keeping Things Whole"

When I walk
I part the air
and always
the air moves in
to fill the spaces
where my body's been.

What is staggering, even alarming, about these lines, which appear at the center of a three stanza poem, is how their simplicity contains complex thought and feeling on levels philosophical, scientific, and spiritual, including a painful recognition that the world continues when we are gone. The oxymoronic poem begins with a sense of alienation: "In a field / I am the absence /of field. / This is / always the case. / Wherever I am / I am what is missing." How does the poet simultaneously capture a sense of human insignificance and the magnitude of our worth with such clarity, in language spare and stripped almost bare? He ends the poem, "We all have reasons / for moving. / I move / to keep things whole." He reveals our unimportance while acknowledging the meaning behind our presence in this world, which ironically, is about the fullness of absence. — Eve Grubin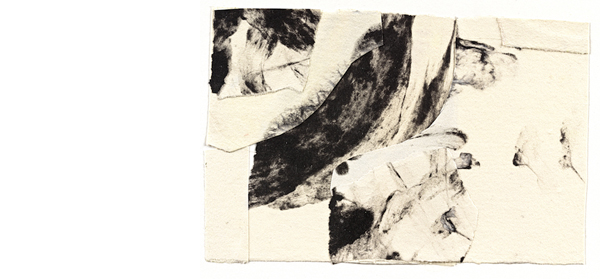 Mark Strand, Madrid, 2013. 2013, Paper collage, 4 3/4″ x 7 1/4."
Courtesy the artist and Lori Bookstein Fine Art, New York.

from "Dark Harbor, XLI"

Sometimes after dinner when I wander out,
And stare into the night sky and realize I have no idea
Of what I see…
It's a fragmented sentence (the whole poem is practically one sentence, I'd have to put the whole poem here to finish the thought) but these opening lines always captured what I love about Mark Strand: the curious, bemused wandering. He had a drive to understand life, was wry and witty in his sentiment; careful as an elite chef's presentation on a plate, and just as complex. He was wise but subtle, in person and in poems. Once, after I asked if he believed in life after death, he paused then replied "No. And what would I do for eternity? Write an endless poem?" I hope that's just what he is doing. — Bianca Stone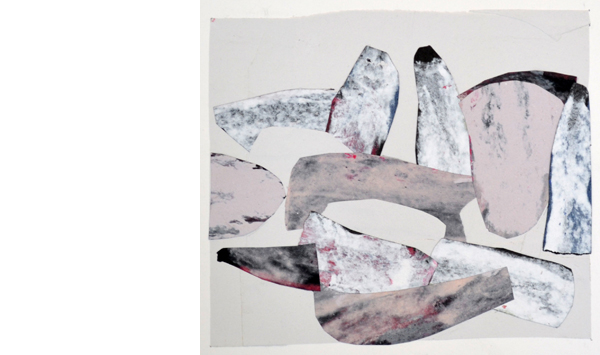 Mark Strand, Untitled, 2013, Paper collage, 7 1/2″ x 8 5/8."
Courtesy the artist and Lori Bookstein Fine Art, New York.

from "The Story of Our Lives"

Where Are the Waters of Childhood?
…
Keep going back, back to the field, flat and sealed in mist,
green the color of light sinking in ice. On the other side,
a man and a woman are waiting; they have come back,
your mother before she was gray, your father before he was white.
… You're almost there, in a moment your parents
will disappear, leaving you under the light of a vanished star,
under the dark of a star newly born. Now is the time.
Now you invent the boat of your flesh and set it upon the waters
and drift in the gradual swell, in the laboring salt.
Now you look down. The waters of childhood are there.

What catches my breath in this poem is both the mystery of the language and the groundedness of trying to understand one's life. It shows me the way to look with frank honesty at one's origins, how I came to be where I am today. Yet Strand neither romanticizes, nor makes the past a factual story, a collection of events. Life remains mysterious, a solitary voyage, finite, and mine to invent.
— Sandy Weisman

From "Clarities of the Non-Existent"

All this in the vague, yellowing light that lowers itself in the hour before
dark; none of it of value except for the pleasure it gives, enlarging
an instant and finally making it seem as if it were true. And years
later to come upon the same scene—the figure leaning into the
same wind, the same hats scattered over the same ground that one
cannot see.
So much to admire and ponder over in this haunting prose poem. In it I find, as I do in many of Mark Strand's poems, a welcoming and unsettling uncertainty, a pleasing entry into a territory of apparent contradictions — clarities of the non-existent. I particularly appreciate the phrase "enlarging an instant," what fine poems do. Also particularly resonant for me is how the poem ends — coming upon the same scene, a scene that can't be seen.
— Ellen Goldsmith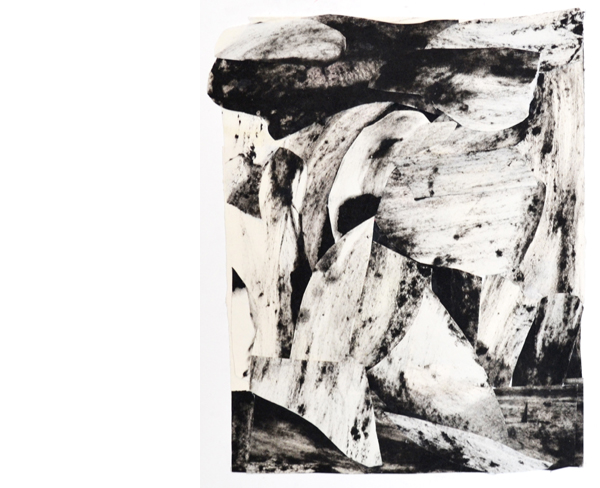 Mark Strand, Untitled, 2013, Paper collage, 10 1/2″ x 7 3/4."
Courtesy the artist and Lori Bookstein Fine Art, New York.

Kimiko Hahn: It makes sense that Mark Strand was born on Prince Edward Island, being a prince among the poets of his generation. And among translators and writers-on-poetry and teachers. Art criticism! Children's books! By way of celebrating him, permit me to quote from Strand and Richard Howard, a la his own collages:
Strand: "I started writing The Monument and it became less and less about the translator of a particular text, and more about the translation of a self, and the text as self, the self as book."
Richard Howard on The Monument: "The poems tell one story and one story only: they narrate the moment when Strand makes Rimbaud's discovery, that je est un autre, that the self is someone else, even something else…."
Let me now climb on my virtual soapbox here and add that an enduring lesson on voice came via translation: Rafael Alberti's The Owl's Insomnia, translated by Strand. Here is one from the earlier book Marinero en tierra, 1924, also translated by Strand:
From "Marinero en tierra"

If my voice dies on land,
take it down to the sea
and leave it on the shore.

Take it down to the sea
and make it captain
of a white man-of-war.

Honor it with
a sailor's medal:
over its heart an anchor,
and on the anchor a star,
and on the star the wind,
and on the wind a sail!

Contributors:
Ellen Goldsmith is a poet and teacher, the author of Where to Look, Such Distances and No Pine Tree in This Forest Is Perfect, which won the Hudson Valley Writers' Center 1997 chapbook contest. A resident of Cushing, Maine, she is professor emeritus of The City University of New York.
Eve Grubin is the author of Morning Prayer, a book of poems published by The Sheep Meadow Press, and her poems have appeared recently in UK journals such as Poetry Review and PN Review. She teaches at NYU in London, she is a tutor at The Poetry School, and she is the Poet in Residence at the London School of Jewish Studies.
Kimiko Hahn is the author of eight collections of poetry, including Toxic Flora, The Narrow Road to the Interior; The Artist's Daughter; Mosquito and Ant; Volatile; and The Unbearable Heart, which received an American Book Award. Other honors include fellowships from the Guggenheim Foundation, The National Endowment for the Arts, The New York Foundation for the Arts, as well as a Lila Wallace-Reader's Digest Writers' Award; also, the Theodore Roethke Memorial Poetry Prize, an Association of Asian American Studies Literature Award, the Shelley Memorial Prize. Her most recent book, Brain Fever was just released by W.W. Norton.
Stefania Heim is the author of A Table That Goes On for Miles (Switchback Books 2014). Poems from HOUR BOOK, a new project, are forthcoming in Ghost Proposal and comma poetry. She is a Poetry Editor at Boston Review.
Lynn Melnick is author of If I Should Say I Have Hope (YesYes Books, 2012) and co-editor, with Brett Fletcher Lauer, of Please Excuse This Poem: 100 New Poets for the Next Generation (Viking, 2015). She teaches at 92Y in NYC and is the social media & outreach director for VIDA: Women in Literary Arts.
Bianca Stone is a poet and visual artist. Her books include Someone Else's Wedding Vows (Tin House/Octopus Books 2014), and Antigonick, a hybrid collaboration with Anne Carson (New Directions 2012). She is co-founder/editor of the press Monk Books, and chairs the Ruth Stone Foundation from her home in Brooklyn, New York. To learn more about the Ruth Stone Foundation or to donate, please visit www.ruthstonefoundation.org.
Sandy Weisman is a poet and visual artist interested in the intersection of word and image. She is the owner of 26 Split Rock Cove, a privately owned artist community of studios, artist living space, and workshops overlooking Mussel Ridge Channel in South Thomaston, Maine.
Andrew Zawacki's most recent poetry book is Videotape (Counterpath, 2013). Supported by an NEA Translation Fellowship, his translation from the French of Sébastien Smirou, See About, is forthcoming from La Presse/Fence Books.
We are grateful to the Poetry Society of America, Brett Fletcher Lauer and Lori Bookstein Fine Art.
More on Mark Strand:
Mark Strand in conversation with Wallace Shawn at the Paris Review
("Mark Strand, The Art of Poetry No. 77")
Dan Chiasson's postscript ("Mark Strand's Last Waltz; The New Yorker, 30 November 2014)
Mark Strand at the American Academy of Poets, Poetry Foundation and Knopf Doubleday
Tilted Arc on Mark Strand: Collages at Lori Bookstein Fine Arts (October 2013)
Subscribe to Tilted Arc
If you like this story, please consider subscribing. We are sticklers for privacy.
We will never sell or share your e-mail address.
Recent Posts: