How can one, with any seriousness or sense of commitment, create a painting and take it through its life, and it doesn't involve a loss as you develop it.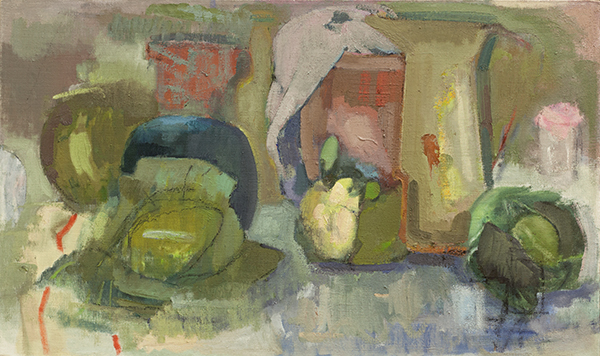 All that needs saying about the conversation excerpted in audio below is that you should go and find eleven quiet minutes and have yourself a listen. That, and maybe some backstory:
On March 22, about three weeks into her knock-out, in-tandem show with Elisa Jensen (likewise a knock-out), Ruth Miller Forge sat down with Stuart Shils for what we thought would be a quick and straight-forward interview. What unfolded over the next three hours came as a complete surprise. Searching and unguarded, Ruth's talk with Stuart went miles beyond the process-and-intention type conversation that's the heart of Tilted Arc. Though process and intention is certainly here.
Again, what follows is an excerpt–and, at times, a noisy one. We recorded the conversation during gallery hours, so cross talk and footsteps and echo sometimes get in the way. But none of it distracts. The conversation carries. And the thoughts that drive it unfold spontaneously and unbothered, as they should.
Enjoy.
Place and Passage Elisa Jensen and Ruth Miller ran 6 March through 5 April 2014 at New York Studio School.
Tilted Arc is grateful to Alison Hall, Graham Nickson, Pamela Salisbury, David Yezzi and New York Studio School for their help in making this feature possible.
spacer Richard Benari
Subscribe to Tilted Arc
If you like this story, please consider subscribing. We are sticklers for privacy.
We will never sell or share your e-mail address.
Recent Posts: