Def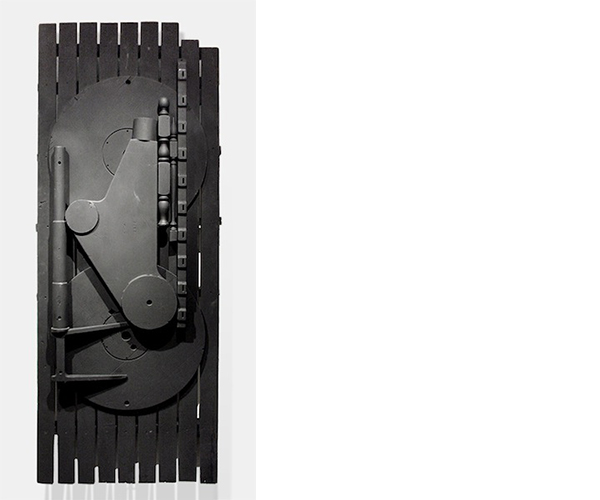 Louise Nevelson 'Untitled.' 1981.
© Louise Nevelson Foundation, courtesy Bruce Silverstein Gallery, New York.
Remnants: Louise Nevelson & Aaron Siskind
19 September – 2 November '13
Bruce Silverstein
535 West 24th Street
New York, NY 10011
212.627.3930
Thirty-two works by Nevelson and Siskind, most of them from early in the artists' careers, are now on view at Bruce Silverstein's, in Chelsea, in a museum-scale show that's part essay, part refresher course on the visual possibilities and pleasures of pure form. The conversation between these artists runs surprisingly deep, touching on the nearly forgotten essentials–especially in photography–of surface, materiality, index and space. More here →
Robert Motherwell: Collage
25th September to 2nd November '13
Bernard Jacobson Gallery, New York
17 East 71st Street
New York, NY 10021
212.879.1100
Before heading off to the Guggenheim to see Robert Motherwell: Early Collages, drop by Jacobson's New York gallery for a more intimate view of the artist's later work. Personal narrative figures in big here, told in fragments of salvaged address labels and pieces torn from proofs of his printmaking work, some painted over by hand. But maybe the best hint that Motherwell is purposefully present here comes through in the torn edge, which is pretty hard evidence of his career-long belief in chance and improvisation.
Besides, the crowds at the Guggenheim suck.
Robert Ryman: Recent Paintings
12 September – 26 October '13
Pace Gallery
508 West 25th Street
New York, NY 10001
212.989.4258
Two big light shows hit town this fall. If you missed this one, go see this one. It's better. More here →
Not So Much
Philip-Lorca diCorcia: Hustlers
12 September – 2 November '13
David Zwirner
525 West 19th Street
New York, NY 10011
212.727.2070
More sugar than protein. But, if you're a fan, hop on over to the Times for another take.
Backstory: a new series happening @Tilted Arc
Kicking off this weekend: Backstory, a new series giving just that: the backstory behind a specific work or project. First up: Painter Ilya Gefter. Here's a forshpeis:
A sense of tradition charges any artistic activity with meaning. Connecting art-viewers and art students to the world of artistic accomplishments that traverse centuries of human history is the central axis of art education. Any course, lecture or workshops on any subject revolves around that axis.
–Gefter on how and why he teaches art.
Richard Benari
Subscribe to Tilted Arc
If you like this story, please consider subscribing. We are sticklers for privacy.
We will never sell or share your e-mail address.
Recent Posts: